It's our review about the broker – Bryce Management.
In this review, we will talk about Bryce Management and tell you what advantages and disadvantages the broker has. We want to show you all the information about the broker and give our opinion about Bryce Management.
Main info – Review of Bryce Management.
Here is a few points that you should look at before we continue to our in-depth Bryce management review:
The main office is Rue du Pré-de-la-Bichette, 1 Nations Business Centre, 6th floor, 1202 Genève, Switzerland.
Don't worry, you don't have to be in Switzerland to trade, the most important thing you need is Internet access.
Since everything happens via the Internet, there is no sense in spending company money on offices, and extra employees in other countries.
Bryce Management decided to invest that money, on qualified specialist that will help you achieve top-notch results in trading.
Bryce Management started working in 2017.
 You can contact the broker by phone, email – [email protected], or leave a message on the website.
Bryce Management has got an Autotrader and trading signals.
The broker has its platform for mobile devices, PCs. And you can also use it directly on the broker's website.
Bryce Management review – how to sign up?
You can register at any time. But you should know about this procedure:
 You will first register with the broker to open an account. Then, you will need to verify you account.
Unfortunately, verification is now a mandatory procedure. Without KYC, you will not be able to trade with any broker. So what documents will you need for these procedure?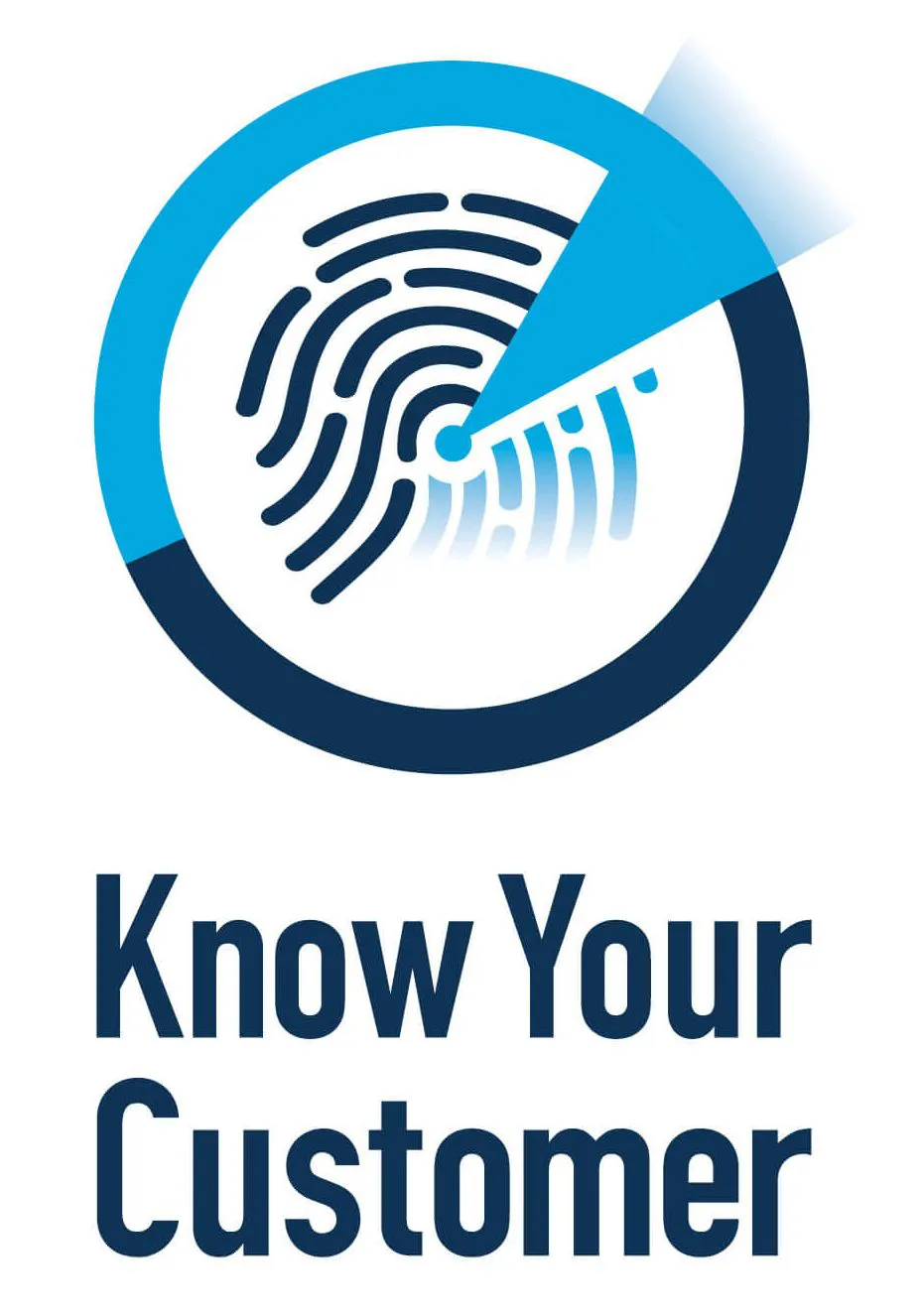 Passport\ID
You will need to provide any official document with which you can confirm your identity.

For example a passport or a driver's license.

Credit / Debit card
You can either scan, take a photo of you Credit / Debit card and make sure the first 4 digits and the last 6 are visible in the scan/photo you made.
*The card that you verify, is the card that you will use when depositing and withdrawing funds from your account.
Utility bill


You will confirm that you are a real person with the help of these documents. So you will need to send a receipt for payment of utility bills that are not older than three months.
When you pass these two procedures, you now have access to the trading platforms provided by the broker.
What types of broker platforms are there.
Bryce Management provides three ways for traders to trade on their platform.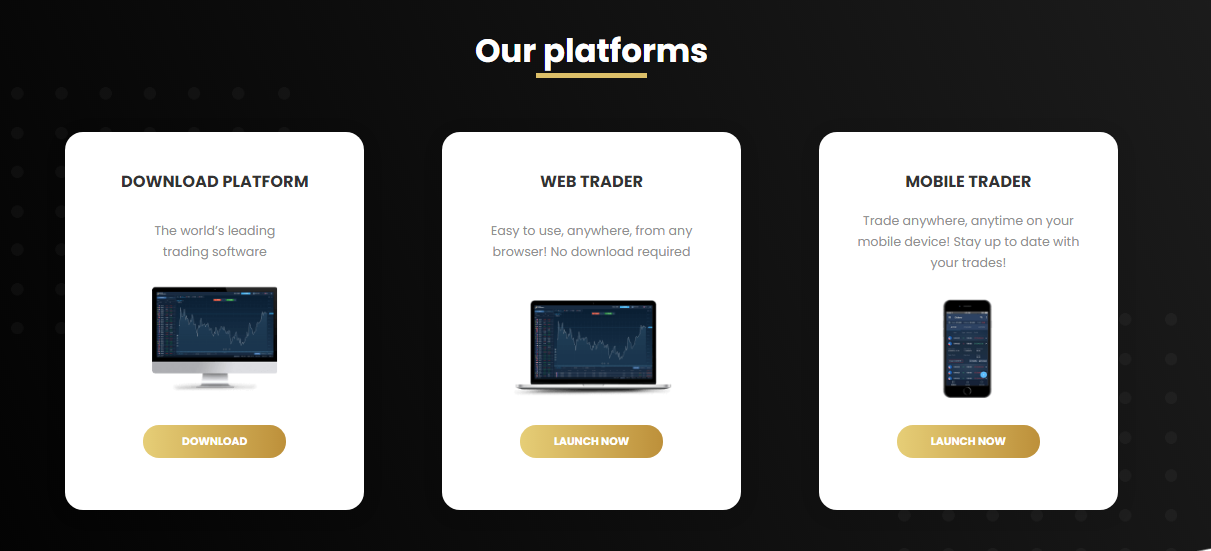 You will be able to download this specially designed platform for trading from a broker to your computer. The broker allows you to

 download the platform

even without registration. However, you will need an internet connection. Without it, you will not be able to trade because the situation on the stock exchange can change at any second, and there for you need the feed to get updated.

You can trade at any time and anywhere from your mobile phone. You can trade on the

mobile platform

conveniently without carrying a laptop or a PC on your back.

Web platform – you can use it directly from the brokers website.
Bryce Management withdrawal of funds.
You can choose how you want to receive your funds. Bryce Management offers the same methods for both withdrawing funds and depositing funds to the account.
You have a choice between those: By credit card, bank transfer, or cryptocurrency.

Please note that you must specify the correct account/card number to be able to withdraw. Tip of the day – Triple check your Bitcoin wallet, before clicking withdraw.
After you confirm the withdraw. You will receive your funds within 5 to 10 minutes. If everything is correct.
Bryce Management Account types.
Bryce Management has five major account types that you can choose from:
Silver – starting from 10 000$
Gold  – starting from 50 000$
Platinum – starting from 100 000$
Diamond – starting from 250 000$
Corporate – starting from 1 000 000$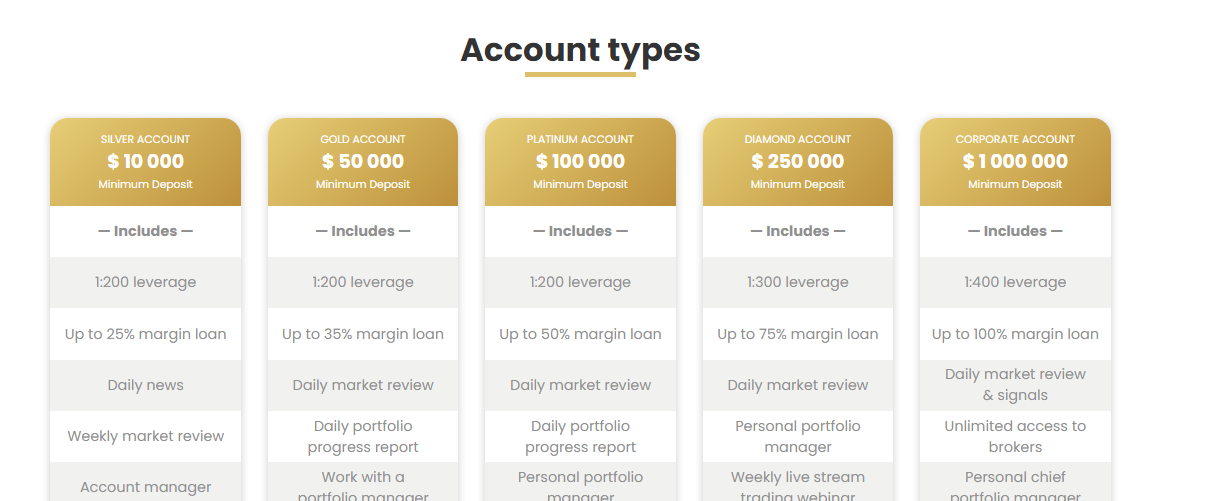 The broker teaches his clients how to trade. It also provides the latest daily news. Bryce Management also conducts streaming webinars.
The broker offers the help of accountants and analysts, starting with " Gold, "Platinum," "Diamond," and "Сorporate" accounts. Bryce Management also provides more profound trading training on  – "Diamond" and "Сorporate" accounts.
The broker provides clients with the opportunity to communicate one on one with managers and other specialists. They will help you to reach better results. They will should and provide you winning investment strategies so you can lower your risk, and get more profits.
Bryce Management provides these amazing tools
.
The advantages of the broker and why we should start trading with him.
Auto trading is a service in which a trader will not have to look at the charts around the clock. You can just setup your bot and enjoy the profits.

Signals are an excellent tool for easier trading. They help to predict whether the asset should raise or fall in price. Therefore you can either buy or sell accordingly. 
*Auto trading and Signals involve risk.
On the broker's website, you always have access to the terms and privacy policies in the training tab. There you can also read about all the risks that you bear when trading.
What are the reviews from Bryce 
Management
 from real customers?
We could not leave our review without feedback from the broker's clients. Below we are ready to show a few of them.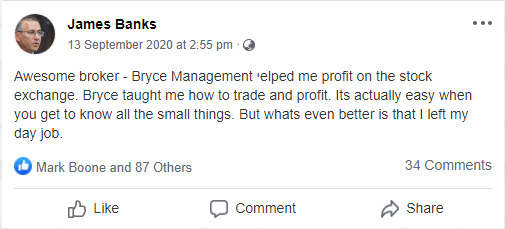 ---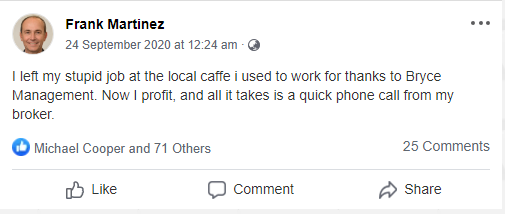 Summary.
Bryce Management broker is a broker you can trust. Bryce offers unique opportunities for traders.
The broker offers a variety of tools and signals to make you a successful trader. Also, each client can get a trading training course from a broker.
Taking into account the above, the broker is good, honest. Bryce Management is will help you earn money. Bryce will help you live the life that you want to live.
Dream, live, and trade together with Bryce Management.